What are Lingual Braces and How Do They Work?
Lingual braces are orthodontic appliances that fit up behind the teeth and therefore are not visible. The word "lingual" means tongue or palate and, when related to braces, refers to the inside surface of teeth. Lingual braces are flat, comfortable and practically invisible because they are attached to the inside of your teeth. They are an effective and cosmetic alternative to traditional braces which are fixed to the front, or outside, surface of the teeth.
Lingual braces are an excellent choice for you if you want your teeth straightened with minimal effect on your appearance; these orthodontic appliances will not be visible.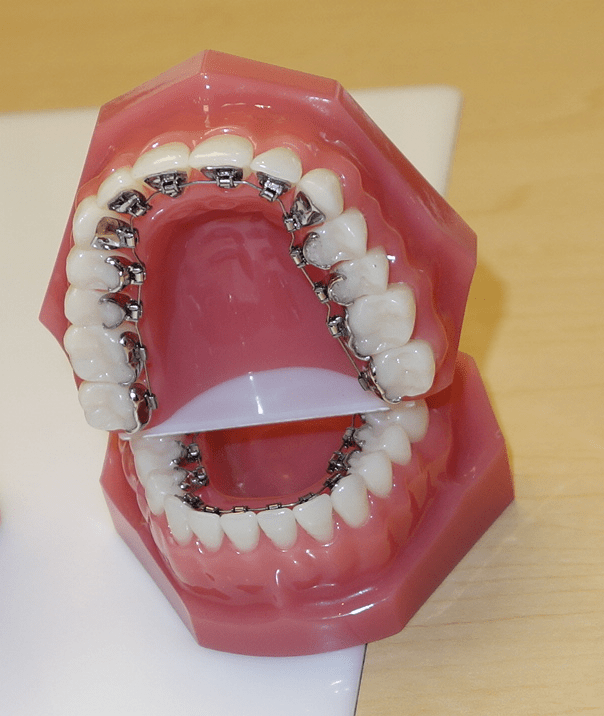 Why Choose Lingual Braces to Straigthen Your Teeth?
LINGUAL BRACES ARE ON THE BACKSIDE OF YOUR TEETH, SO OTHER PEOPLE CANNOT SEE IT. PATIENTS WHO ARE HIGHLY CONCERNED ABOUT LOOKS MAY CHOOSE LINGUAL BRACES.
If you are concerned about the appearance of traditional braces that are visible, then lingual treatment might be the best choice for you. Cosmetic appearance is important for most of us; if you need to do presentations to audiences or clients and want to maintain a professional image while developing a great smile, a lingual system is a good fit for you. Our certified orthodontist, Dr. Wang, specializes in lingual braces and a number of other types of orthodontic braces, and can evaluate your needs and help you decide which treatment is best for you and your lifestyle. If lingual braces are the right choice for you, you can receive orthodontic care at our Surrey or Vancouver office.
PACIFICWEST IS ONE OF THE FEW ORTHODONTIC CLINICS THAT OFFER LINGUAL BRACES. LET US KNOW IF YOU HAVE ANY QUESTIONS!

Dr. Wang, DDS, MSc, FRCD(C)
Orthodontist

Dr. Kevin Lee, DMD, MSc, FRCD(C)
Orthodontist
dO YOU HAVE QUESTIONS ON LINGUAL BRACES?
Who Choose Lingual Braces?
Adults in professions that generally frown upon the look with braces or in professions where wearing braces are discouraged.
Anyone who are highly conscious on their looks.
Anyone wanting invisible braces find that lingual bracket treatment provides an effective solution for straightening teeth and creating a beautiful smile. This orthodontic system for straightening teeth uses advanced technology to provide a solution that works well and that is not visible.
The expert Orthodontists at PacificWest Dental Group will determine if lingual braces are the best solution for straightening your teeth. We serve clients in our Surrey and Vancouver, BC offices.
Can Lingual Braces Treat Teeth Alignment Issues Effectively?
Yes! Lingual braces can treat teeth alignment and crowding issues as effectively as normal braces and Invisalign. This includes:
Crowded Teeth
Misisng Teeth
Irregular Spacing
Open Bite
Over Bite
Under Bite
Cross Bite
Frequently Asked Questions
Lingual braces are orthodontic appliances that fit behind the teeth and are, therefore, not visible. The word "lingual" means tongue or palate and, when related to braces, refers to the inside of the teeth.
How do lingual braces differ from traditional braces?
The biggest difference between lingual braces and traditional braces are they only visible to your orthodontist because they sit behind the tooth. They give each tooth its own bracket and wire. The appliance is shaped to the back of each tooth.
Are lingual braces as effective as traditional braces?
Yes! Lingual braces are just effective as traditional braces. They can treat various conditions, including crowded teeth, missing teeth, irregular spacing, and bite issues. They also slowly straighten your teeth.
Are lingual braces more expensive than traditional braces?
Lingual braces are more expensive than traditional braces. They use customized designs to fit each tooth, making the application complex. The treatment period can be longer.
Who is a good candidate for lingual braces?
There are several ideal candidates for lingual braces. Those who want their braces to be less visible and want to avoid damaging the front surfaces of their teeth can benefit from these orthodontic appliances. Musicians who play wind instruments, older adults and those who play contact sports can also use lingual braces.
How long does it take to see results with lingual braces?
Factors such as your case's severity and the issue being addressed affect how long it takes to see visible results with lingual braces. You may notice your teeth shifting after four weeks, but results start becoming more visible in two to three months.
How long do I need to wear lingual braces for?
Results vary depending on the case and the patient. On average, the treatment period for most patients is one to two years.
Are lingual braces more uncomfortable than traditional braces?
The level of discomfort with lingual braces is similar to that of traditional braces. However, they will irritate the tongue a bit more. They do not cause discomfort in lips and cheeks like traditional braces. The effects vary depending on the patient and orthodontic issues.
Can I eat and drink normally with lingual braces?
Lingual braces do not need to be taken out when eating or drinking as Invisalign does. However, you should eat soft food that's easy to chew after getting them on the first time and after adjustments. It will decrease the amount of discomfort you experience.
How do I clean my teeth with lingual braces?
You should brush your teeth with a soft round-bristle toothbrush twice daily. Dental floss can be hard to use when you have an orthodontic appliance in your mouth, so use interdental cleaners to reach hard-to-reach places. While you can eat the foods, you regularly eat, avoiding sticky foods that stick to the braces is recommended. Lastly, remember to clean your appliance with dental floss after eating.