What is an orthodontic or dental emergency?
If you experience severe pain in your mouth, poking wire, broken retainer or others, please get in touch with us.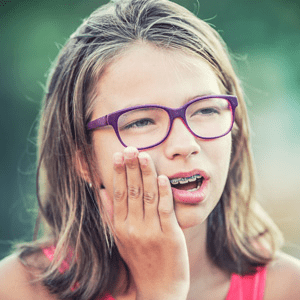 It is normal for teeth to be sore a few hours after the braces are placed or wires are adjusted. This discomfort happens when the teeth begin to move. Usually it lasts for about 4 days, however, everyone is different. If the pain gets so bad that you can not bear, please contact us.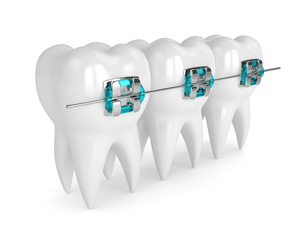 Apply orthodontic wax over the poking wire and call our office. If you need to cut a poking wire at home, use a nail clipper thoroughly cleaned with soap and disinfected with alcohol. In some cases, we provide patients with an emergency kit containing a small wire cutter.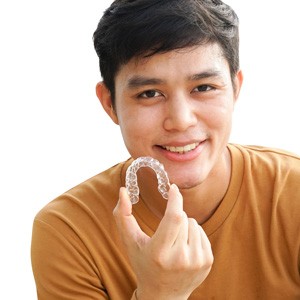 Broken or lost retainers must be repaired or replaced as soon as possible. Contact us to be seen at the office.
If your clear retainer tray is broken into two even pieces, continue wearing both pieces as usual until we can see you again.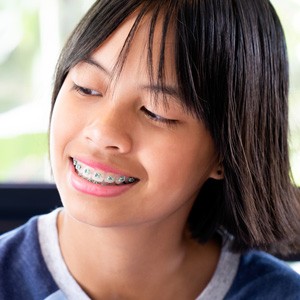 Please describe clearly what the issue is. This will help us pinpoint your problem and serve you faster.
Other Discomfort or Problems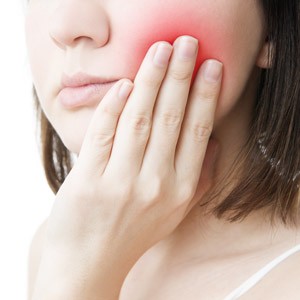 Soreness (Braces & Invisalign)
Your teeth may be tender to bite on for few days after you first get your braces put on or you begin Invisalign treatment. Sometimes, you may also feel some tenderness following braces adjustments or after starting in new Invisalign aligners. This can be relieved by rinsing your mouth with a warm salt water mouthwash, or by taking over-the-counter medicine, such as Tylenol or Advil.
The lips, cheeks, and tongue may also become irritated for one to two weeks after you've received your braces or Invisalign. Over time, your mouth will toughen up and become accustomed to the surface of the braces. For braces, you can put wax on the areas that are bothering you to ease the discomfort.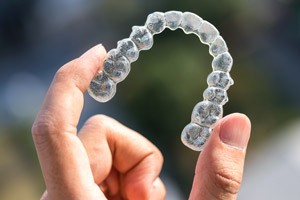 ATTACHMENTS OFF (INVISALIGN)
An attachment coming off isn't usually an urgent matter. It will be replaced at your next visit.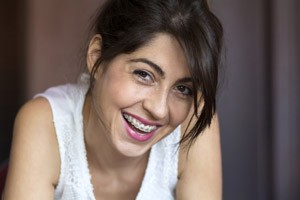 LOOSENING OF TEETH(BRACES & INVISALIGN)
Loose teeth is normal and is to be expected throughout treatment. Teeth must slightly loosen first so they can be moved.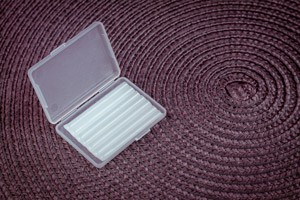 LOOSE WIRE OR BAND (BRACES)
This can happen occasionally and it's not an orthodontic emergency. If irritation to the lips or mouth occurs because of it, place wax or wet cotton on the wire to reduce the annoyance. Call our office ASAP to see if we need to check and repair the appliances. If a piece comes off, save it and bring it with you to your next appointment.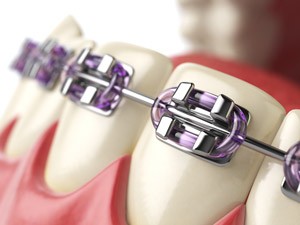 When a bracket comes off of a tooth, it's still normally attached to the wire with an elastics tie (colored rings). Simply cover it with a wax if it irritate you. If it fell off, bring it with you to our next appointment.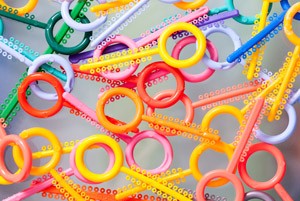 If an elastic tie falls off, let us know. Sometimes, you can wait until your next appointment to have it replaced. If not, a quick visit to the office to put the elastic tie back on.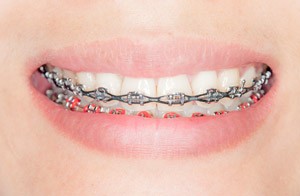 If your elastic chain snaps, please call our office to let us know. This is not an emergency and should not cause you any discomfort.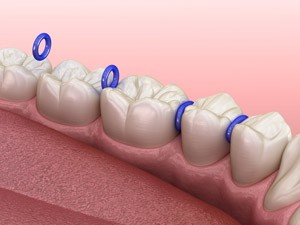 If your separator comes out, you can try replacing it at home. Use 2 pieces of floss. Slide the floss through the middle of the separator and pull either piece of floss to opposite sides allowing you to pull the separator stretching it to become skinny. Simply floss the separator back into place. If you have issues, please call to inform us.