The PacificWest team will take care of moving your teeth, but we need you to keep your teeth healthy! From maintaining proper dental hygiene to being aware of the foods you eat, getting your teeth straight is a team effort.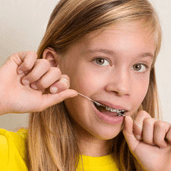 How to take care of your teeth
Flossing is just as important as brushing, especially when you have braces. Food can easily get stuck in your teeth and braces, so diligence is key.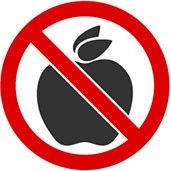 What not to eat
There are many things you can still eat with braces, so we will focus on what you cannot eat. We want you to avoid foods that may loosen or get stuck in the braces, which are typically hard, sticky, and chewy foods. Also avoid biting into whole foods like apples and carrots; instead, cut them up into bite-sized pieces.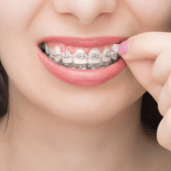 Quick fixes to minor pain
It does not happen often, but sometimes you may experience slight discomfort with your braces. For example, a wire might be poking your cheek or the bracket may be loose. We recommend you calling our office so we can set you up with an appointment to get the issue fixed. For immediate relief, place some wax on top of the wire or bracket. General soreness caused by the braces can be mitigated by taking Tylenol or Advil
Although our Orthodontists are fully trained as dentists, we specialize only in the treatment of Orthodontic issues. We strongly recommend that you continue a regular schedule of check-ups and cleanings with your family dentist for the maintenance of your dental health.
answer our 1 minute questionnaire and get a consultation with our orthodontist!

Dr. Wang, DDS, MSc, FRCD(C)
Orthodontist

Dr. Kevin Lee, DMD, MSc, FRCD(C)
Orthodontist
WHAT ARE YOU LOOKING FOR?
See What Our Patients Are Saying About Us
Hundreds of 5 Star Review from Happy Patients.

A very beautiful office with professional staff
My daughter's teeth are on its way to being perfect! Thank you, Dr. Wang and staff for being so attentive and efficient at each of our visits.
Just got my braces off and my teeth look amazing!
The doctors and staff are always super nice and friendly, I would definitely recommend if you're looking to get braces!
They made my dream smile come to life. Huge shoutout to the amazing doctors and the staff especially Leighton since she saw my first smile

I'm glad I found such a professional dental office.
The staff is very enthusiastic and the dentists are very professional and responsible. It took me only ten months to complete my orthodontic work. It was perfect. Dr. Lee is super nice, patient and responsible
The clinic is also newly renovated and very beautiful.
My sister referred me to see Dr.Wang and I'm is happy I committed to changing the appearance of my teeth at this clinc. I love coming to my appointments and always look forward to seeing Maria and Dr.Wang!
Nov 2019 | Priyal Bhambra
The staff here is so amazing, kind and understanding. I would definitely recommend everyone coming here !
During your initial consultation, we will understand your situation, perform a visual examination of your bite, recommend a treatment plan and answer any questions or concerns you may have.