What are Lingual Braces and How Do They Work?
Lingual braces are orthodontic appliances that fit up behind the teeth and therefore are not visible. The word "lingual" means tongue or palate and, when related to braces, refers to the inside surface of teeth. Lingual braces are flat, comfortable and practically invisible because they are attached to the inside of your teeth. They are an effective and cosmetic alternative to traditional braces which are fixed to the front, or outside, surface of the teeth.
Lingual braces are an excellent choice for you if you want your teeth straightened with minimal effect on your appearance; these orthodontic appliances will not be visible.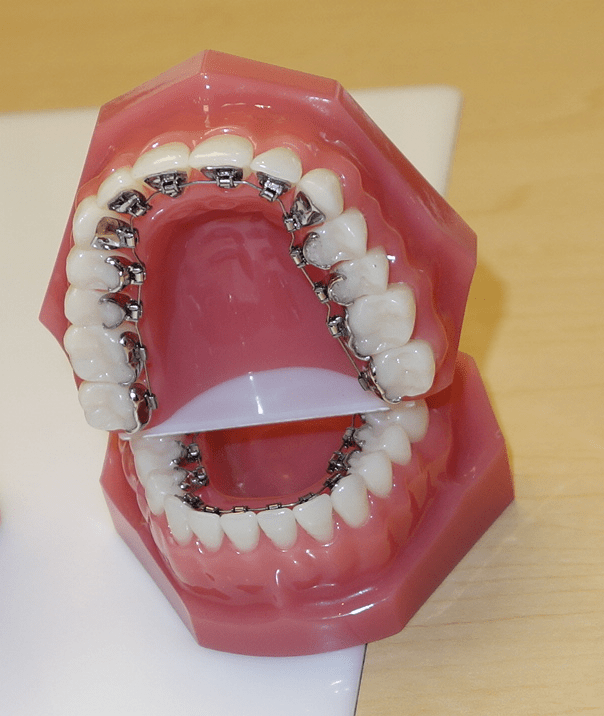 Why Choose Lingual Braces to Straigthen Your Teeth?
LINGUAL BRACES ARE ON THE BACKSIDE OF YOUR TEETH, SO OTHER PEOPLE CANNOT SEE IT. PATIENTS WHO ARE HIGHLY CONCERNED ABOUT LOOKS MAY CHOOSE LINGUAL BRACES.
If you are concerned about the appearance of traditional braces that are visible, then lingual treatment might be the best choice for you. Cosmetic appearance is important for most of us; if you need to do presentations to audiences or clients and want to maintain a professional image while developing a great smile, a lingual system is a good fit for you. Our certified orthodontist, Dr. Wang, specializes in lingual braces and a number of other types of orthodontic braces, and can evaluate your needs and help you decide which treatment is best for you and your lifestyle. If lingual braces are the right choice for you, you can receive orthodontic care at our Surrey or Vancouver office.
PACIFICWEST IS ONE OF THE FEW ORTHODONTIC CLINICS THAT OFFER LINGUAL BRACES. LET US KNOW IF YOU HAVE ANY QUESTIONS!

Dr. Wang, DDS, MSc, FRCD(C)
Orthodontist

Dr. Kevin Lee, DMD, MSc, FRCD(C)
Orthodontist
dO YOU HAVE QUESTIONS ON LINGUAL BRACES?
Who Choose Lingual Braces?
Adults in professions that generally frown upon the look with braces or in professions where wearing braces are discouraged.
Anyone who are highly conscious on their looks.
Anyone wanting invisible braces find that lingual bracket treatment provides an effective solution for straightening teeth and creating a beautiful smile. This orthodontic system for straightening teeth uses advanced technology to provide a solution that works well and that is not visible.
The expert Orthodontists at PacificWest Dental Group will determine if lingual braces are the best solution for straightening your teeth. We serve clients in our Surrey and Vancouver, BC offices.
Can Lingual Braces Treat Teeth Alignment Issues Effectively?
Yes! Lingual braces can treat teeth alignment and crowding issues as effectively as normal braces and Invisalign. This includes:
Crowded Teeth
Misisng Teeth
Irregular Spacing
Open Bite
Over Bite
Under Bite
Cross Bite
Speak With Our Orthodontist Today!
Hundreds of 5 Star Review from Happy Patients.
July 2020 | Luiza Santiago
Definitely the best orthodontist clinic
Highly recommended. Recently had my braces removed and they look amazing. Thank you so much for giving me a nice smile
I'm happy to be referred to PacificWest Dental for my son's orthodontics. Dr. Wang is great and the staff is very helpful and friendly.
They made my time here memorable and exciting
I had a very group experience with these group of people.They made my time here memorable and exciting.thank again for giving me the opportunity to smile without feeling shy and awkward but proud and happy.
Great place to get your teeth fixed
This orthodontist's office is a great place to get your teeth fixed. They are knowledgeable people with welcoming attitudes. They greet me like friends even after not seeing me for 6 month periods.
July 2019 | Les Siestes de Gaspard
Very nice and helpful staff
Dr Cheng took time to explain to us every step of the orthodontic process and is very gentle with kids. I would definitely recommend this place to anyone looking for an expert work.
Great office and friendly helpful staff.
I've been coming here for 2 years and no complaints at all.
Nov 2019 | Jiali Scarlette Liu
The dentist (Dr. Wang) and staff are very professional, friendly and helpful. Will update the review again once I have my ortho fully completed.
My Cousin recommended Dr. Wang to have my teeth straightened. My braces just came off Today and my teeth look great! I am very happy with the outcome of my braces treatment. Excellent service! Super efficient and friendly staff.I recommend Pacific West Dental Group with my whole heart.
July 2019 | Jaskiran Sraon
Getting my braces on and off was a positive experience!
The staff is very nice and helpful and listened to what I wanted for my smile
July 2019 | Hibba Chaudhry
Absolutely wonderful staff
They are always willing to help and answer any questions. Very kind and caring.I love how my teeth turned out